About Villa Rosalena
Villa Rosalena offers bed and breakfast accommodation with a choice of four large stylish rooms all with modern ensuite shower rooms or self catering rental of the whole floor (sleeps 8-11).
Villa Rosalena is an historic nineteenth century villa overlooking Ponte a Serraglio bridge in the heart of the unspoiled Tuscan spa town of Bagni di Lucca. From the unrivalled setting of its terraces and arched loggia Villa Rosalena offers spectacular views along the River Lima of the Casino, Villas, spas and chestnut clad hills and mountains.
It is a haven of beauty and tranquility, the ideal spot for a truly relaxing vacation yet restaurants, bars and shops are all only few minutes walk. The owner has many years experience working in Five Star hotels and offers quality, style and service on a more personal scale at Villa Rosalena.
Villa Rosalena is just under an hour's drive from Pisa airport, and only 20 minutes from Lucca. Bagni di Lucca is easily reached by public transport, with good buses and trains from Pisa and Lucca, and connections to Florence and the Versilia coast at Viareggio. The railway station is less than a mile away (free pick up from the station!).
Read our blog: www.tuscanyvillarosalena.wordpress.com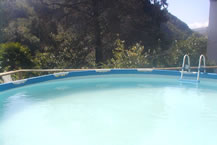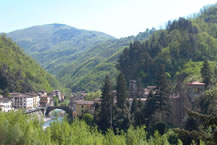 View from front facing rooms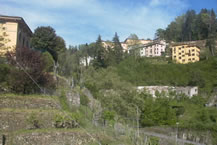 View from side facing rooms
Click on pictures to
see larger versions