A little further...
Florence (Firenze)
98km
Approx 1½ hour drive
By train from Bagni di Lucca, change at Lucca, 2 hours
Florence is truly the art capital of the world. Its centre is compact and much can be seen on foot in a day trip.
Highlights include the Ponte Vecchio over the River Arno, the famous Brunelleschi dome of the Cathedral (Duomo), the statues in Piazza della Signoria including the copy of David and the views looking back over the city from San Miniato or the Boboli Gardens. The Uffizi, one of the most famous art galleries in the world, includes Botticelli's 'Birth of Venus' and Titian's 'Venus of Urbino'. (Best to book tickets-long queues!)
Then there's the shopping! Florence is famous for quality leather goods, hand marbled paper and gold jewellery. Also most top designers have shops on Via Tornabuoni, including Versace, Armani, Prada and Gucci.
Siena
162km
Approx 2 hours by car
By train:not recommended for a day trip, several changes needed.
The beautiful medieval city of Siena can be visited as a full day trip. Its uniformity of colour and architecture makes it a special place, especially in summer when the colourful flags and banners of the Palio adorn the streets of each of the 17 contrade (districts).
The fan shaped Piazza del Campo is a perfect location for people watching from its cafes whilst a climb up the Torre del Mangia gives a stunning panorama over the terracotta rooftops. The Museo Civico in the gothic Palazzo Publico houses notable medieval art, in particular the frescoed walls. The Duomo is striking, zebra striped black and white marble.
Another delight lies in the pastry shops of Banchi di Sopra with many sweet delicacies originating from Siena such as panforte (dense sweet fruit cake) and ricciarelli (almond biscuits).
The Cinque Terre
114km (Riomaggiore)
Approx 1 hour 40 minutes by car to Riomaggiore or 1 hour 20minutes to La Spezia.
By train: possible as a day trip with an early start, minimum train time 2 hours 20minutes.
The five colourful villages of the Cinque Terre cling to the cliffs of the rocky Ligurian coast. These quaint historic fishing villages are uniquely untouched by modern life. They are linked by steep ancient footpaths offering stunning vistas of the sparkling blue coastline and vine clad terraced hillsides and for the less energetic of us also by railway and by boat.
For a day trip they are best appreciated arriving by boat with frequent departures from La Spezia stopping in four of the five villages, Riomaggiore, Manarola, Vernazza and Monterosso al Mare. Corniglia must be reached on foot or by train. For boat departure times see www.navigazionegolfodeipoeti.it.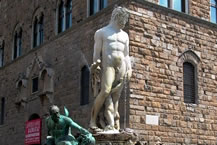 Florence

Siena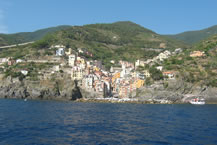 Cinque Terre
Click on pictures to
see larger versions